Islam and Anarchism with Mohamed Abdou
anarchistnews.org
PodcastDogs
2022-10-02
https://anarchistnews.org/content/islam-and-anarchism-mohamed-abdou
This week, Scott spoke with Mohamed Abdou, a North African-Egyptian Muslim anarchist activist-scholar who is currently a Visiting Scholar at Cornell University and an Assistant Professor of Sociology at the American University of Cairo. Mohamed is the author of the recent book, Islam and Anarchism: Relationships and Resonances published by Pluto Press in 2022.
For nearly 2 hours, Scott and Mohamed speak about Mohamed's experience of the Tahrir Square uprising of 2011 and the western media coverage of it, current unrest in Iran, Orientalism, decolonial education, Islam, Settler Colonialism, anarchism and a lot more.
You can follow Mohamed on Twitter at @minuetInGMinor or on facebook at @MohammadAbdou2020
Upcoming
Stay tuned next week for a chat with the organizers of the 2022 Atlanta Radical Bookfair and another surprise topic. For patreon supporters, pretty soon we should be sharing early releases of conversations with Robert Graham about his 2015 book "We Don't Fear Anarchy, We Invoke It" and with Matthew Lyons on far right christian movements and other chats. More on how to support us at tfsr.wtf/support.
Announcements
And now a few brief announcements
Asheville Survival Program Benefit
For listeners in the Asheville area, you're invited to an outdoor Movie Night benefit for Asheville Survival Program halloweeny season double feature on Saturday October 8th at 6pm at the Static Age River Spot. There'll be food, music and merch. To find out more sbout the venue, you can contact Asheville Survival via their email or social media, found at linktr.ee/avlsurvival
Atlanta Radical Bookfair
If you're in the southeast of Turtle Island, consider visiting so-called Atlanta on Saturday, October 15th where from noon to 6pm you'll find the Atlanta Radical Bookfair at The Auburn Avenue Research Library on African-American Culture and History in Georgia. There'll be speakers and many tables, including us!
Hurricane Ian Relief
If you want to offer support to folks in Florida around Hurricane Ian, one place to start could be with Central Florida Mutual Aid. They have tons of ways to plug in remotely or on the ground for what is likely to be a long and arduous cleanup and repair effort. You can learn more about them at linktr.ee/CFLMutualAid
Also, Firestorm books is collecting donations of emergency goods at their storefront in Asheville.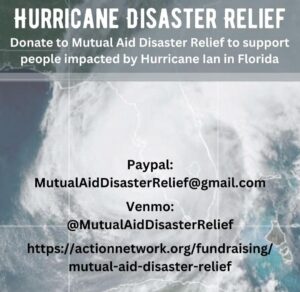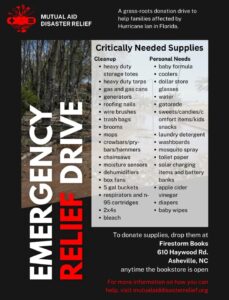 Prisons in the Wake of Ian
We've regrettably missed the opportunity to promote the phone zap campaigns to raise awareness of prisoners in the path of Hurricane Ian before the storm hit, but suggest that folk check out FightToxicPrisons.Wordpress.Com to learn more about efforts to press public officials to heed the calls to protect prisoners during storms like this rather than follow the path of inertia and cheapness that leads to unnecessary deaths of folks behind bars.
#ShutDownADOC2022
There is currently a prison strike within the Alabama Department of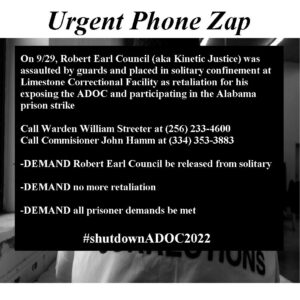 Corrections known by the hashtag #ShutDown ADOC2022. Campaigners have organized a call-in campaign to demand an end to retaliation against Kinetic Justice (s/n Robert Earl Council) who has been assaulted by guards on September 29th and placed in solitary confinement as well as retaliation of any prisoners participating, Kinetic's release from solitary and the meeting of prisoners demands. Supporters are asking folks to call Warden William Streeter at (256) 233-4600 or Commissioner John Hamm at (334) 353-3883. You can find a recent interview with Kinetic at Unicorn Riot, as well as more on the prison strike at UnicornRiot.Ninja
. … . ..
Featured Tracks: