Kitschy, antisemitic or something else? The strange history of the faux-Hebrew font
The Forward
BCohen
2022-07-28
https://forward.com/forward-newsletters/forwarding-the-news/512365/kitschy-antisemitic-or-something-else-the-strange-history-of-the-faux-hebrew-font/

Faux-Hebrew fonts are ubiquitous. Did it start out Jewish or antisemitic?
Give Andrew Silverstein a mystery and he will hold it up to the light, look at it this way and that, and not put it down until he finds the answer.

For the past year, he has taken small-seeming questions to investigative extremes: Does New York or Texas lay claim to pastrami? Who was the Native American featured so prominently in that 1970s ad for Levy's rye bread? What caused the great cream cheese shortage of 2021?

Now he's tackled the faux-Hebrew font.

Dual purpose: You've probably seen faux-Hebrew on kitsch marketing and deli menus, but there's a darker side to it, too. During the Holocaust, some yellow-star patches included "Jude" written in Hebrew-inflected letters. "On the facade of the Second Avenue Deli, it feels whimsical," Silverstein notes, "but on a yellow star at an anti-vax rally, it is the font equivalent of a hooked nose."

A clue: Silverstein spent weeks speaking to graphic designers, art scholars and rabbis trying to find out who used it first: Jews or antisemites? Turns out there was a clue down the block from the original Forward building on the Lower East Side. Above the doorway at the 1931 art deco Bialystoker Home for the Aged, the word "Bialystoker" is carved in stone in letters that resemble Hebrew.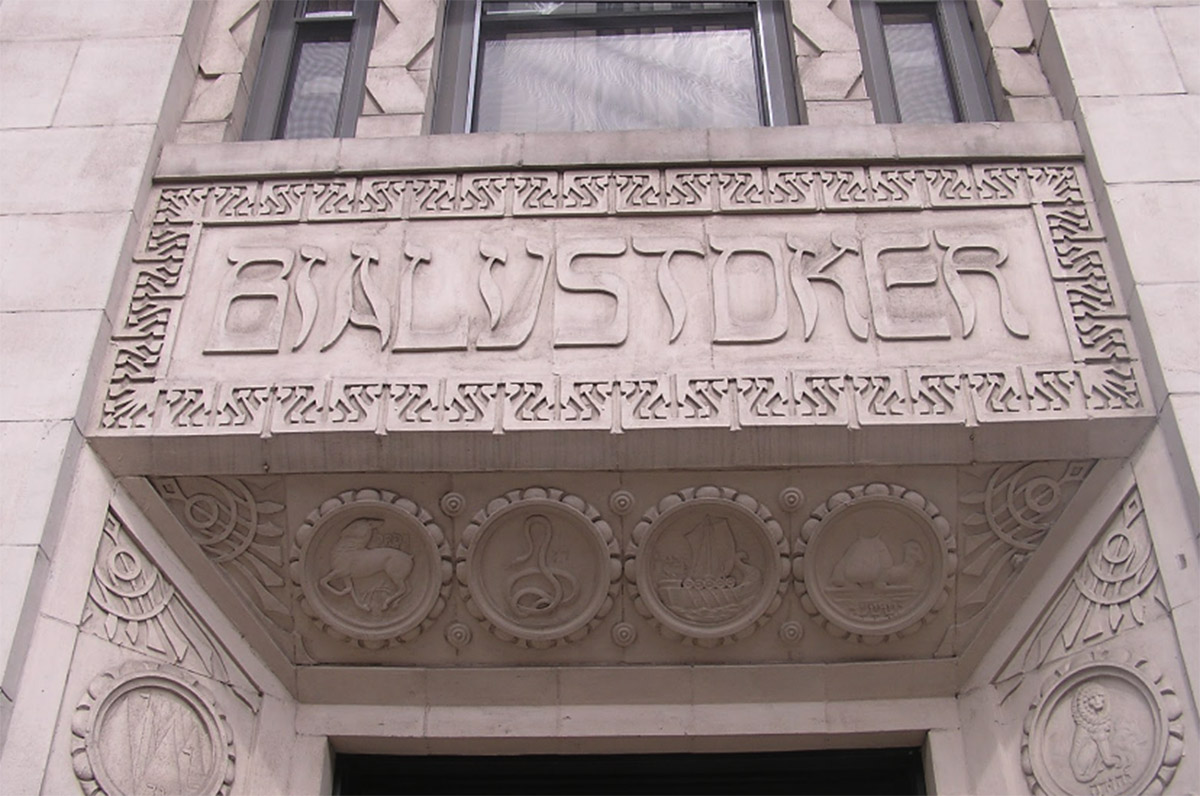 The Bialystoker building on the Lower East Side of Manhattan. (Samuel D. Gruber)
Birth of a font: The engraving was inspired by the artist Ephraim Moses Lilien, who included faux-Hebrew on the cover of a 1900 book. Lilien later helped open Bezalel, the first design school in the future state of Israel, and created the iconography of the Zionist movement. So he's the one who popularized the font among Jews.
An ethnic joke: The lettering also appears on the sheet music for minstrel songs that poked fun at Jewish immigrants, with actors in raggedy dark clothes, fake beards and hooked noses. Both the audience and the performers were often Jews.

A deeper meaning: Silverstein found that faux-Hebrew's usages have shifted along with the varied circumstances and perspectives of generations of Jews. In today's American consumer society, that has manifested itself into ironic t-shirts and "Yiddishe Kup" mugs, but it could be so much more.
Two actresses audition for the role of Anne Frank in a new short film. (Courtesy)
What happens if a Black woman plays Anne Frank? Anne Frank's writing on evil, forgiveness and human nature have wide appeal; numerous groups and causes lay claim to her legacy. Her story is both uniquely Jewish and powerfully positioned to shed light on modern racism. So who can play Anne Frank? A new short film pits two actresses — one white and Jewish, one Black and not — against each other as they audition for the role. Read the story ➤
Is it possible to separate Roger Waters' music from his politics? The 78-year-old made his name with Pink Floyd, but his vocal opposition to Israel's treatment of the Palestinians has complicated his relationship with some of his Jewish fans — and fellow musicians. After attending a recent Waters show, Jim Sullivan, a longtime music critic for the Boston Globe, spoke to some Jewish musicians about the political aspects. "I still love the music," said Genya Ravan, a punk rocker who fled the Holocaust, "but he is drunk on his own perfume and it stinks." Read the story ➤

Why 'Nope' spotlights Jewish prophets and mitzvahs (warning, spoilers ahead): Jordan Peele's latest film, about a mysterious space invader stalking Hollywood's only Black-owned horse ranch, begins with a quote from the prophet Nahum. And the film's biblical resonances don't stop there. Peele's movie regularly invokes the number 613 (the number of commandments in the Torah), notes our PJ Grisar, as well as the danger of beholding the face of a higher power. "One might wonder if Peele has spent some time with Jewish commentaries," he says. Read the story ➤

And one more: Did Franz Kafka predict the COVID-19 pandemic?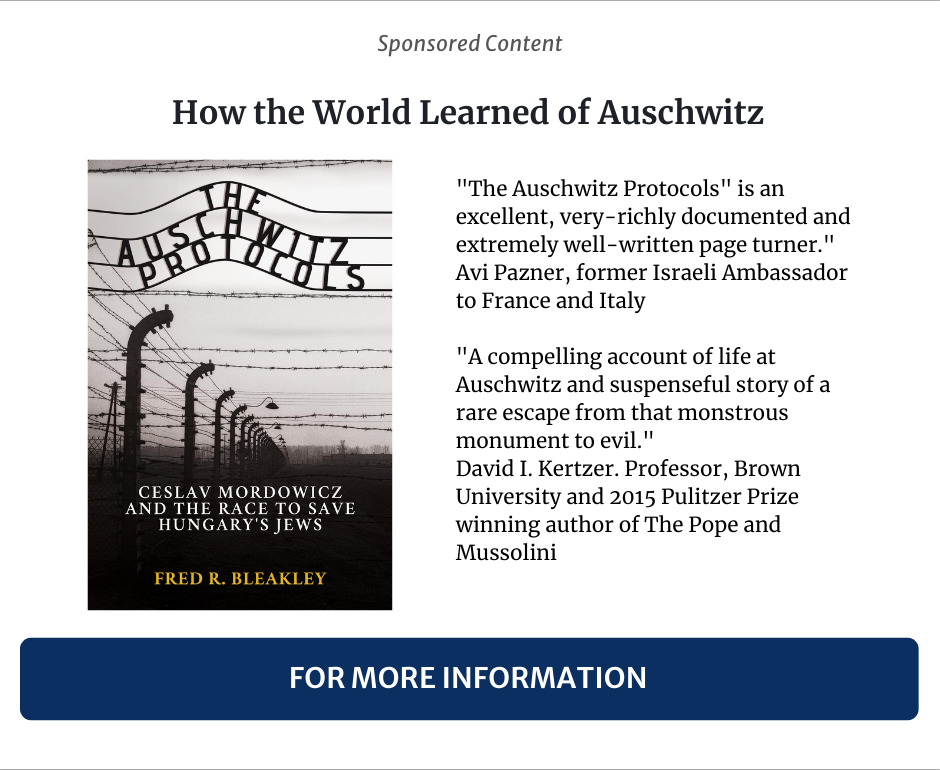 WHAT ELSE YOU NEED TO KNOW TODAY
Ronnen Amir, a High Holiday pilgrim from Jerusalem, prays on Sept. 18, 2020, in Uman, Ukraine. (Getty)

  Ukraine has canceled the annual High Holiday pilgrimage to Uman because of the war, and Israel's foreign ministry warned its citizens this week against making the trip. But up to 15,000 are nonetheless expected to visit the tomb of the early Hasidic leader Rabbi Nachman of Breslov. (Haaretz)
  Also on the war front, an Israeli delegation flew to Moscow Wednesday evening in an effort to keep the Jewish Agency open there. The agency helps Russian Jews emigrate to Israel, and there has been a flood of aliyah since the war began, but the Russian Justice Ministry is seeking to shut it down. A court hearing is scheduled for today. (Haaretz)
  Ambassador Deborah Lipstadt, the State Department's antisemitism czar, said Wednesday that she is going to meet soon with executives at Lufthansa to discuss a May incident in which identifiably Jewish passengers were kicked off a flight from New York City because some of them were not complying with mask regulations. (Forward)

  A former U.S. Marine who was plotting to attack a synagogue and commit other violence against Jews, women and people of color was arrested. Federal prosecutors said he was conspiring online with members of a neo-Nazi group called Rapekrieg, and was discharged from the military because of his extremist activities. (JTA)

  The young man suspected of fatally shooting seven people and injuring 25 more at a Fourth of July parade in the heavily Jewish suburb of Highland Park has been indicted on 117 charges, prosecutors in Illinois said Wednesday. Follow all of our coverage of the aftermath of the shooting here. (CNN)
  A White House Middle East coordinator said it's "highly unlikely" that there will be a return to the 2015 nuclear deal. He said that President Joe Biden aims to use sanctions and diplomatic isolation against Iran. (Axios)

  In The Atlantic, Yair Rosenberg tells the true story of how a non-Jewish producer from Ohio helped revolutionize the Jewish a cappella scene. "You may not know Boyer's name," Rosenberg tantalizingly explains, "but you know his work." (Deep Shtetl)

Paging our attorneys ➤  Dozens of former Republican and Democratic officials announced on Wednesday a new national political party to appeal to voters they say are dismayed with what they see as the country's dysfunctional two-party system. The new party is called Forward. (Washington Post, Reuters)

Shiva calls ➤  Eli Evans, the author of several books and an esteemed chronicler of the Southern Jewish experience, died of complications from COVID. He was 85. "I am not certain what it means to be both a Jew and a Southerner," Evans once wrote, "to have inherited the Jewish longing for a homeland while being raised with the Southerner's sense of home." … Henrique Morelenbaum, considered one of Brazil's most prominent conductors, died at 90 … Alex Rosenberg, the art gallery owner who became friends with Salvador Dali and Fidel Castro, died at 103.

What else we're reading ➤ How Brooklyn klezmer great Andy Statman got a Grand Ole Opry welcome in Nashville … New book examines the history of modern Israel's representation in Hollywood movies … Inside Barcelona's surprisingly thriving Jewish comedy scene.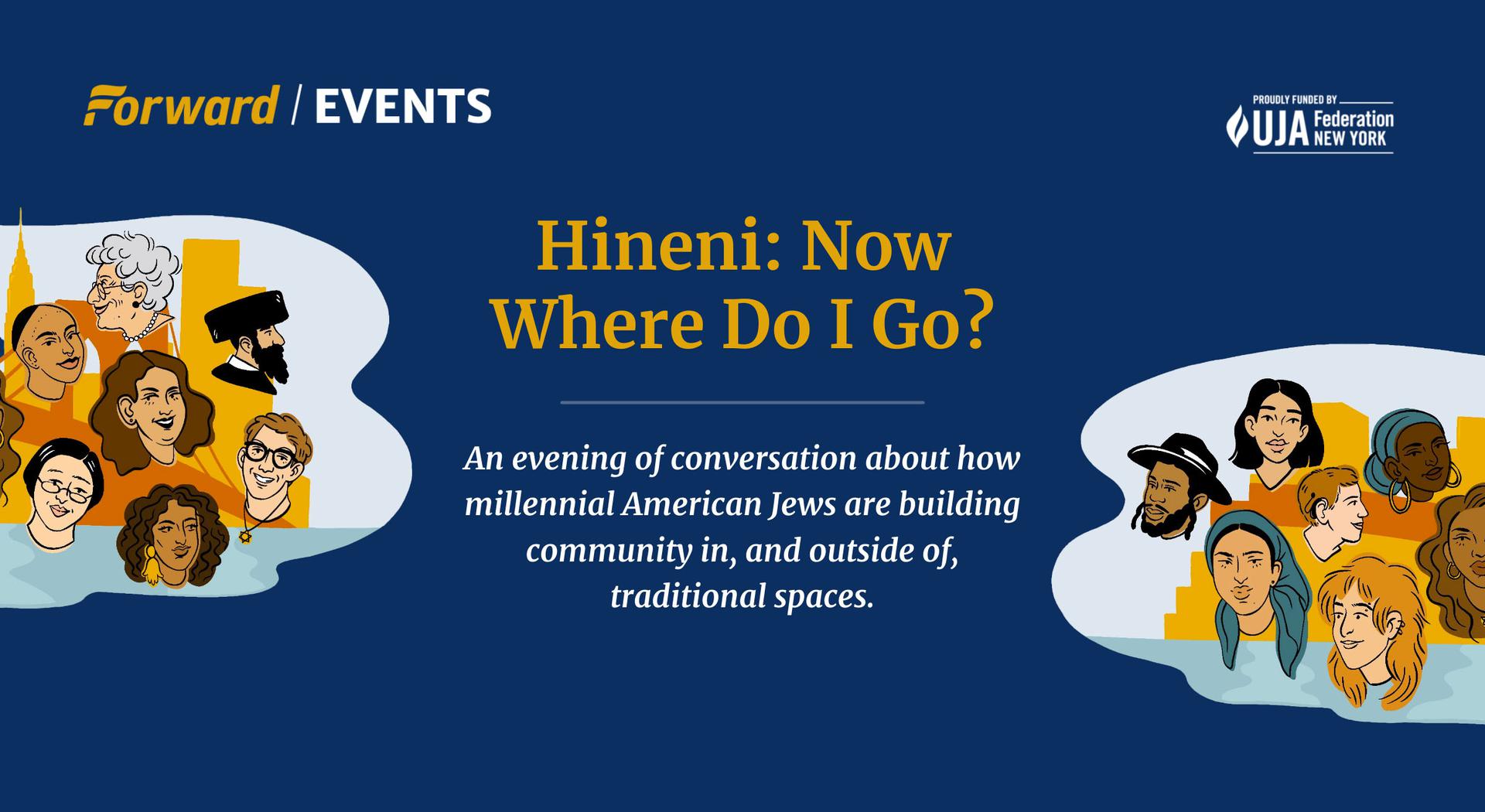 Tonight @ 7 p.m. ET: It's not too late to join us in Brooklyn — or online — for  a provocative discussion with Rabbis Kendell Pinkney and Abby Stein, and journalists Arielle Angel, Nora Berman and Alex Zeldin. Register now ➤
On this day in history (1821): Peru declared its independence from Spain. Today, around 3,000 Jews live in Peru, but our history there dates back to the Spanish conquest in the 16th century. As in Spain, many Jews were forced to convert by the Peruvian Inquisition. In the 19th century, Peru experienced an influx of Jews from other parts of Europe. Two of Peru's Prime Ministers, Efraín Goldenberg and Pedro Pablo Kuczynski, had parents who were Jewish immigrants.

Last year on this day, we reported that three hockey-playing Jewish brothers made NHL history.
On the Hebrew calendar, it's the 29th of Tammuz, the yahrtzeit of Rashi, the preeminent commentator on the Torah and Talmud, who died in 1105.

In honor of National Intern Day, a special shout-out to our marvelous interns: Halle Goodman-Weinbaum, Jordan Greene, Sarah Nachimson, Amanda Rozon and Rina Shamilov.
Eight of the 14 people vying for a Brooklyn congressional seat debated issues including Israel and antisemitism at a forum co-hosted by the Forward on Tuesday night. Assemblywoman Yuh-Line Niou, one of the leading contenders, was the only one to defend anti-Israel boycotts, and also said she wasn't sure she'd travel to Israel if elected. The candidates also shared their favorite bagel toppings. Watch a video of the event ➤  or Read an article about it ➤
–––
Play today's Vertl puzzle, the Yiddish Wordle
Thanks to Mira Fox, Jordan Greene, PJ Grisar, Jacob Kornbluh, Lisa Lepson, Andrew Silverstein and Talya Zax for contributing to today's newsletter. You can reach the "Forwarding" team at editorial@forward.com.
The post Kitschy, antisemitic or something else? The strange history of the faux-Hebrew font appeared first on The Forward.